Volunteering at Park Sharon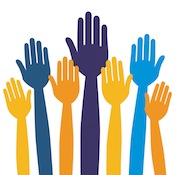 Park Sharon is an ALL volunteer organization that supports youth athletic activities that are governed by a sense of fun, fair play and sportsmanship. To ensure our leagues run smoothly, we need many volunteers to help support our kids. If you're not sure how to get involved, contact one of our Board Members or Commissioners and see what you can do to help!
BACKGROUND
In January 2007, the Park Sharon Board of Directors implemented a Risk Management Resolution to help ensure the safety of our players and to protect the integrity of our organization. This resolution requires that all persons volunteering for a position of coach, assistant coach, team parent, or other position that interacts with players to submit to a background check and to sign a Volunteer Covenant Statement. This applies to all Park Sharon sports.
Approved Volunteer Status
is valid for 3 years.
VOLUNTEER REGISTRATION PROCESS
Park Sharon encourages all parents to complete the volunteer registration process. You never know when you may decide you want to join in the fun and help out with practices or games!
Click Here to complete the online Covenant Statement and Volunteer Application. **We will contact you about your application only if we need additional information or if there is an issue.**
(NOTE - Volunteers are required to provide a valid SSN for the criminal background check. For additional information on this requirement and site security, please view this FAQ.)
ADDITIONAL INFORMATION
Below is additional information relating to Park Sharon Risk Management:
Click Here

to view the PSAA Risk Management Resolution

Click Here

to view the PSAA Volunteer Guidelines