Park Sharon Cheerleading
**Please click HERE to read our COVID-19 Policies and Procedures*
Welcome to Park Sharon Cheerleading! The Cheerleading Season at PSAA runs the end of October through the end of February. Cheerleading is open to students ages 5 to 12; all levels of experience are welcome, including no experience.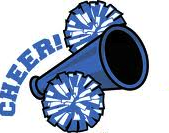 SIDELINE CHEER
Our PSAA sideline cheerleaders engage with the fans and keep the player's spirits high during our winter PSAA basketball games. Cheerleaders learn the skills of sideline cheerleading, memorize fun cheers and chants, and perform dance routines during the games and half-times. Our sideline cheerleaders love to smile, are enthusiastic and encourage the fans to have spirit and fun!
(*Note: this is not a competition cheerleading team. Only mini-stunts and formations are taught, such as cartwheels and chair-height lifts. There are no tosses or flips.)

Our Park Sharon Cheerleaders cheer for the Park Sharon Basketball teams. Games are held on Saturdays. Cheerleading practices are held on (TBD Night for 2021 - 2022 season).
If you have questions, please email us at cheerleading@parksharonsports.com.
WINTER 2021-2022 EVENTS
| | |
| --- | --- |
| Date | Event/Location |
| Mid-October | Registration Open |
| Mid-November | Registration CLOSES on 11/12 |
| Mid-November | First Practice November 16th @ Smithfield Elementary |
| January | First Games - TBD |
| TBD End of February | Last Games |
| TBD End of February | End of Season Awards Party |