Concessions
The Park Sharon Cafe has come a long way! Approximately 10 years ago, PSAA Concessions were operated out of what is now the tractor shed! There were no bathrooms, only port-a-johns. Hard to believe, but true! PSAA has come a long way as you can see. PSAA continually gets many compliments from families from other athletic organizations regarding our entire facilities. PSAA has something to be most proud of. The Park Sharon Cafe is run solely by parent volunteers!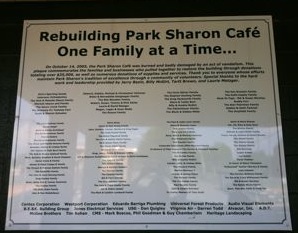 The Park Sharon Cafe can now cure your hunger pains while you watch your children play in their selected sports program from a wide variety of "fast food" items, including their all famous "deluxe hot dogs". The Park Sharon Cafe has excellent restroom facilities and a public telephone for local calls. There is also a Lost & Found crate kept inside the concession area for all those items left behind the day before. Items are purged every three weeks and sent to Goodwill. There is an announcers booth located on the 2nd floor available for Minor and Majors baseball games, Girl's Softball games and Soccer games. Volunteer parents also run the announcers booth or anyone over the age of 15 years of age. There are also score board boxes to be hooked up to each infield fence for the outfield score boards and a score board box for the soccer fields.

Each family belonging to PSAA is asked to work the concession for at least one game during the season. Adult volunteers are solicited or any sibling over the age of 15 years of age. Coaches are discouraged from working the concession as they already put many hours into the association for the benefit of the children.

Upon each families' arrival to work at the Park Sharon Cafe, you will find a well-stocked, well-organized concession. There are instructions on how to prepare hot items on the menu as well as a price list including every item on the menu for "first timers." There are also checklists posted to help with the Opening and Closing procedures each day. It is a very easy job and very enjoyable to serve the kids!

Most importantly, the Park Sharon Cafe generates a lot of income for the athletic association. Monies have been used to purchase nice tables and chairs for dining, umbrellas for picnic tables during those hot summer days, and upgrading the press box so that meetings and registrations can be held there as well as announcing the baseball and softball games. The Park Sharon Cafe profits have also been able to help with various tournament registration fees. All money does go back into the Park Sharon Athletic Association.

The Park Sharon Cafe depends on all volunteer parents for support. Please say "YES" when you are asked by your Team "Mom" to support PSAA through their concessions. Also, if you would like to volunteer for the Concession Committee at PSAA to either help with scheduling, stocking supplies, cleaning the concession, volunteering for special events or just to help staff the concession, please drop us a note, call, or send an E-mail message to: Concessions@ParkSharonSports.com

PSAA
8508 Park Road
Box #166
Charlotte, NC 28210

Thanks for all that you do for the Park Sharon Athletic Association!